You have nothing to hide and plenty to celebrate when you buy from Sasha. Everything is handmade with care, by experienced artisans. These beautiful, ethically-produced products will delight your customers and help keep India's rich, artisan heritage alive.
Local knowledge with flexible production
Whether you are a small start-up that needs more assistance or a larger, established boutique brand, we have the expertise and resources required to support you. Leverage the experience and local knowledge of our team. They can assist you with information on raw materials and pricing and ensure that the designs developed will meet your specifications.
We don't mass-produce products, our artisans lovingly handcraft each and every item. It's part of what makes them special. This makes us ideal for smaller production runs.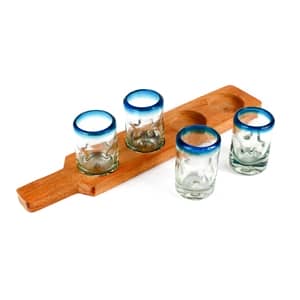 We're looking out for you and the environment
Where possible we use eco-friendly, natural dyeing techniques for both textiles and leather. This is an area we excel at. When natural dyes aren't an option we use safe AZO free chemical dyes to minimize environmental harm and to ensure the end consumer's safety.
We encourage customers to consider the benefits of organic cotton. It is better for the environment and means the cotton is not exposed to any nasty chemicals. This option is available for yarn and factory-woven fabric.
Upcycled products offer exciting opportunities to experiment with innovative designs. Perhaps even more important, they create ways to utilize textile waste like off-cuts of organic cotton, or used jeans and saris that would otherwise be thrown away. It is an important aspect of our waste minimization efforts.
To ensure the safety of our jewelry, all designs use non-toxic, heavy-metal free components. This means they contain no lead or nickel which have been linked to adverse health affects.
Stuffed cotton cushions and children's toys are all designed to be child safe. They have been tested and carry the CE mark which means they are legally compliant with strict European safety standards. If you need products to meet certain compliance standards, we'd be happy to get them certified for you.
Wooden kitchen accessories such as trays, salad bowls and spoons are finished with mustard oil and a natural lacquer. They have all been tested and passed as safe for use with food, though they have no official certification.
These workshops are free for buyers, but all activities and services are chargeable.
You will need to cover costs for:
Food / accommodation / travel
Contact us for further details and to arrange a visit.
We look forward to working with you!
Merchandizing services
Need customized labeling and packaging?
We offer a product merchandising service so you can have your brand presented how you want.  Have us create packaging and label designs for you or supply your own artwork for us to print.
If you don't know how you want to package and present your product. We can help there too. This includes creating the product's packaging and deciding how things like price tags and wash care labels are presented. Gett this right and you can really create a "wow" factor when your customer receives their product.
Contact us for more information.
Frequently Asked Questions
Costing is based on artisans' time and expenses and is negotiated directly with the Producer Groups - 60-65% of product price goes to the Producer Groups
50% advance before production with the remainder due before delivery. This provides pre-finance to the producers to cover raw material purchases and wages.
We ship by both air and sea. We can work with your nominated shipping agent or provide full logistics support from our side at competitive rates to deliver to your door. We prefer to work on ex-Factory or FOB basis.
We offer competitive shipping rates for both overland and air shipments.
Yes. A majority of our products are handmade from natural and safe raw materials like, natural fibers and vegetable dyes. We can also source GOTS certified and organic cotton. Production processes with a low environmental impact are promoted. Some of our efforts include: upcycled products, eco-dyeing for leather, organic/vegetable dyeing for textiles, safe low-impact printing and textile dyes (AZO and PCP free).
Sasha is Fair Trade Guaranteed by the World Fair Trade Organization which means it has undergone an external verification through a third-party audit. This is reviewed every 4 years with a peer assessment every 2 years. We have internal monitoring systems (IMS) to ensure Sasha and our Producer Groups are meeting Fair Trade compliance standards.
Traditional crafts are learned by artisans with techniques passed down through the generations in their community. Non-traditional crafts are learned through training workshops provided by Sasha.
Yes. Please contact us at least 2 weeks ahead of your proposed visit. If we can accommodate your visit, we will arrange the trip, but you will bear all expenses.
No, but we do retail some crafts and textile products through other online portals.
Yes, we do. Request a copy here.
Learn more about customizing our artisan product ranges