Here's wishing everyone a very Happy New Year! A new year, a fresh start, new challenges and definitely a year to sparkle. December was an exciting time, a sign of things to come in the New Year!
Christmas Magic at Sasha Shop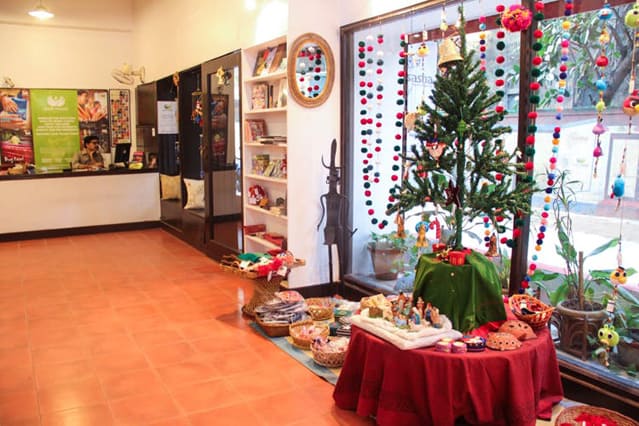 The magic of Christmas was recreated into an extra special celebration at Sasha this year! We opened our hearts to four of our project partners from across the country. They are as diverse as can be: PAGIR, Ladakh; Tibetan Handmade Paper Factory, Dharmshala; Kiran Society, Varanasi; and Khadim Handicrafts Welfare Association, Sambhal. It was with great joy and enthusiasm that we showcased their products, made by specially abled and gifted artisans. We also had music and songs by the young musicians from Articulatory Bards over some delicious cakes & cookies.
https://www.facebook.com/sashafairtrade/videos/1550369395000512/

SSA has provided an opportunity to its partner organizations under the IM project to test market products they generally make, as well as the new designs that have been provided during product development intervention. Sasha store showcased recycled bags, curtains and Ladakh key chains from PAGIR – Ladakh; handmade papers, notebooks and notepads from the Tibetan Handmade Paper Factory; stress toys and IQ toys from Kiran Society; and horn & wooden products from the Khadim Handicrafts Welfare Association.
Sasha was invited to the Charity Christmas Market at the German Consulate General, Kolkata and to the Loreto School Fest this year!
We were happy to be featured by LBB, Kolkata, in this season of festivities as 'the' place for Christmas shopping! Read all about it:
https://lbb.in/kolkata/pick-perfect-xmas-ornaments-lights-free-trade-store-free-school-street/
Noon Day – Celebrating their first Artisan summit in India
Noon Day celebrated an entirely new level of connection with the community this fall when they hosted their first international Artisan Summit in New Delhi, India! Read about how we're connecting more deeply than ever with our Artisans:
https://blog.noondaycollection.com/celebrating-our-first-artisan-summit-in-india/
Training and workshops on dyeing at Phulia and Birnagar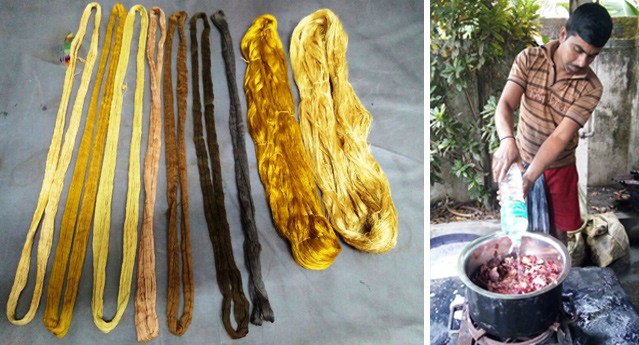 A refresher workshop in Phulia was organised to standardize natural colours for onion and pomegranate in silk and cotton yarn. Ms Karobi Choudhuri facilitated the workshop. SSA organized a workshop in Birnagar on the standardization of the dye process and colour-fastness. The objective of the workshops was to standardize the colour tones for larger orders, to improve colour fastness and to teach the artisans the correct process for vat dyeing.
Ms Karobi Choudhuri from SSA coordinated the workshop where a master craftsman from Katwa was the trainer. He suggested using separate spoons for each dye colour; measuring the fabric and then weighing the dye colour; mixing the dye in a manner to get the maximum colour extraction; making fresh dye baths for each lot; and mixing the colour in a stainless steel saucepan. It was very useful training for the artisans and was well appreciated.
SPAN (Rural & Urban)

SSA is partnering with SPAN Urban for their sustainable enterprise development project near the Basanti region in Sundarbans, West Bengal. Roshni Mukherjee and Rita Naskar facilitated a participatory Needs Assessment with the women stakeholders to help them in the selection of enterprises. SSA shall also plan a strategic intervention plan for the upcoming project.

Continuing with their partnership with SPAN rural, the SSA team organized a one-day workshop on costing, pricing, bookkeeping and orientation of fair trade with participants in the project. Following on from this training, the young women from the community have been motivated to organize themselves into a group. Samples been have developed and SSA shall support them to find markets.
We begin the New Year with Organic weekends at the Sasha Shop.
Check this space in the coming months for all the details of the exciting times ahead, captured especially for you.
That's all folks!