The month of February was indeed what one calls a whirlwind of a month! With five major exhibitions in two major cities across India, getting the merchandize fixed, logistics sorted, invitation confirmed and promotions done, back to back. Phew, what a month. The Sasha team put it's heart and soul together with well-wishers chipping in from all directions to made this a very memorable month of 2020.
Coffee meet with Friends of Sasha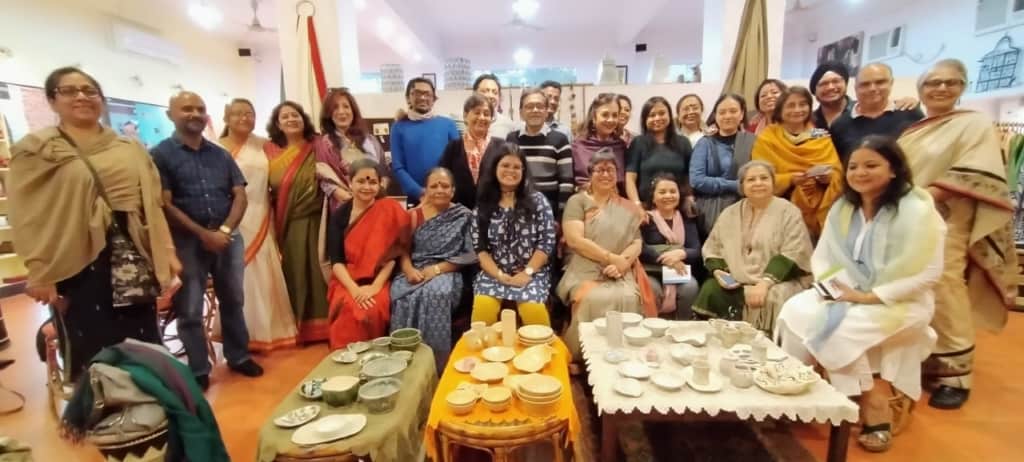 Sasha was set up in 1978 with a mission  to promote sustainable livelihoods of the marginalized craft communities, by leveraging fair trade principles and practices.Sasha's flagship store in Kolkata, set up in 1981,  is a destination store for discerning customers who care for creativity, culture, and authenticity and respect the "handmade".  Sasha is a guaranteed member of the World Fair Trade Organization (www.wfto.com) and Sasha store- the original and only Fair Trade Shop in Kolkata.
We are happy to have so many well-wishers over the years. We appreciate the constant support and encouragement that they provide us. As a token of our appreciation, we invited and hosted noted designers, entrepreneurs, educationists, development professionals and artistes as our 'Friend of Sasha' to the Sasha Shop over a cup of coffee on the last day of January. What followed was an invigorating discussion on myriad subjects all tied in a common thread- their love and respect for Sasha's mission. We are excited to receive valuable insights and feedback from the experts. And we look forward to many meaningful collaborations in the future.
Sasha at Winter NYNOW 2020
Sasha was at the Winter NY NOW 2020 from 1-4 February at the Javits Centre. We were at the Rising Artisans booth no 1569. Showcasing for the first time- Rooh, PaperMache' craft from Kashmir. Developed in collaboration with Government of Jammu & Kashmir under the Jhelum Tawi Flood Recovery Project (JTFRP) and the World Bank India. We received a positive response on the range of products, both for their design interpretation and utilitarian quality. The range was developed by Sasha's in-house design lead, Suchi Mahapatra. There was a good number of visits from new customers, mostly retailers and Fair Trade/ethical wholesalers.
Jhelum Tawi Flood Rehabilitation project showcased at Kalaghoda Arts Festival, Mumbai
Authentic PaperMache' craft from  Kashmir at Kala Ghoda Arts Festival from 6-9 February.
Developed in collaboration with Industries Department, Government of J & K under the Jhelum Tawi Flood Recovery Project (JTFRP) and the World Bank India & Implemented by Sarba Shanti Ayog (SSA).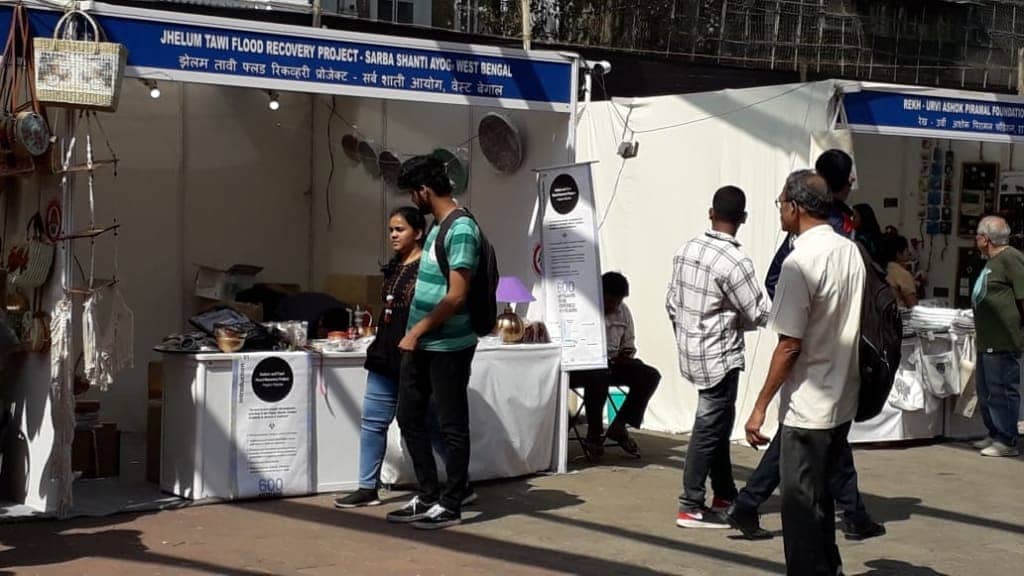 Sasha at Kalaghoda Arts Festival,Mumbai
Sasha was back at Kalaghoda with hand woven and embroidered textiles, Shantiniketan embossed leather and decorative hangings  at Kala Ghoda Arts Festival from 1-5 February. It was exciting for the Sasha team to be back in Mumbai as customers have a good recall of Sasha products. The leather, of course did exceptionally well. But although there was great deal of footfall, it did not translate much into sales and this was a general trend. We still managed to do a decent sale. The duo of Anindita Ray and Subroto Dey did well to handle the crowd and sell simultaneously in what was a tiring yet satisfying outing.


Sasha Fair Trade Fair 2020
The Sasha fair Trade Fair is an annual feature in the city.  The Fair, provides a popular platform for the artisan community, craft promoting organizations and small producers across India.  Held in the heart of the city, it is eagerly awaited by discerning consumers and craft organisations alike. Utmost care and thought is put into planning and designing the fair to present a resplendent array of beautiful hand-crafted products from all over the country.
The Fair had the crafts and textiles from Kashmir as the highlight this year and will showcase the extraordinary and exquisite skill of the artisans– Paper Mache', Crewel embroidery, Pashmina and woollen shawls.
The fair was inaugurated by noted designer Swarup Dutta while the fair was designed by noted scenographer Amitrasudan Saha.
The fair also hosted craft demonstrations and sessions with practitioners at a specially created Adda zone. This is our effort to communicate the rich hand skills traditions of India and the sub-continent; expand understanding and interpretation of contemporary craft and encourage individuals to sustain handloom and handicrafts and the crafts communities by appreciating its value.
We were delighted to have the following people join us for demo & talks:
All things Bees & Honey,

by

Swarnendu Sarkar, Bee enthusiast
Keepers of ancient, Pattachitra demo by master artisan Bhagwan Swain

Nature is where it all began- Natural dye demonstration by

Karobi Choudhuri by Sasha
For the love of art, craft and history-by

Sumana Chakravarty, The Chitpur Craft Collective

A window to Folks, Tribals, Arts, Artists by Ratnaboli Bose, Daricha Foundation

A tale of old, traditional beliefs woven in cotton-

by

Dr. Hemlatha Jain revivalist, Punarjeevana Sarees.
Food on your plate and food for thought- by Dr. Anshuman Das, Environmentalist & food expert.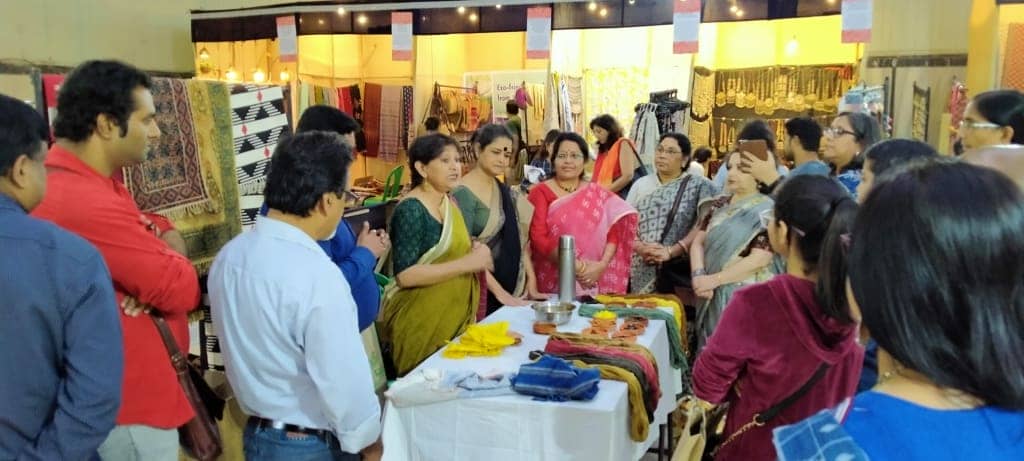 Additionally, handicrafts and handloom products from all over the country were displayed Kenjakura weaves, Sabai and Shola Banglanatak.com, Baskets from ESAF, Batik from Shunya, Bagru and Blue Pottery from Rajasthan, Gujarat, Bhimji Vankar from Kutch, Bamboo & textiles from Assam and North-east; Patteda Anchu from Karnataka, Blue Lotus and Mahalaxmi Ikkat from Telengana, Shibori, Kalamkari Dhurries, Quilts from Purkal Stree  Shakti, Dhokra & tribal weaves from Anwesha; Basketry from KadamHat, Afghan jewelry & Carpets; Terracota by Craftlipi, Aharam weaves, Jamdani, Phulia cottons and Handspun sarees from Bengal, kitchen ware, wood & horn products, hand-woven stoles & sarees, Organic food, herbal body care,  organic gourmet spices and much more.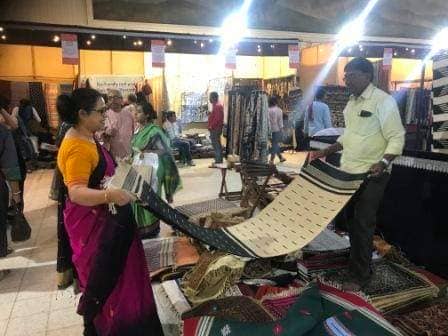 Every product and participant represented India, its rich repertoire of handcrafting traditions and grassroots sensibilities.
The PTTO workshop at Rajpur by SOIR-IM
The progress tracking tools for operations (PTTO) is a part of SOIR-IM new strategic plan 2019 – 2023. The training was held at the beautiful campus of SOIR IM, in Rajpur, Uttarakhand. The training was held in classroom sessions. The training was attended by 6 partner organizations & 2 program officers of SOIR-IM. The sessions were divided into four part based on the thematic areas-
Ensured civic space
Strong Civil Society
Social Inclusion
Economic Inclusion
On day one, participants discussed on Ensured Civic Space, Capacity of Civil Society and Social Inclusion. It was discussed and mutually agreed that scores are not important i.e. progress from baseline to the date in terms of scores. Reflections, learning, challenges and examples in working towards this new approach which is envisaged to lead us together to societal change are more important. Sujata Goswami and Sayanti Banerjee from SSA participated in the workshop.
Visit to Little Flower, Raxaul
SSA has visited Little Flower for scoping of the project under SOIR-IM. During our three day visit inputs on business capacity building and in-depth monitoring was done with reference to inputs provided in the previous years. Fresh sets of Inputs were provided and handholding done on strengthening areas like tailoring, weaving, quality control, stock maintenance and pricing. Ms Santosh Gupta facilitated the training. Sujata Goswami and Sayanti Banerjee from SSA facilitated the visit.
Check this space in the coming month for all the details of the exciting moments of our special Kantha exhibition at Artisans Gallery Mumbai and International Womens' Day celebrations!
That's all folks!