The month of August is one of the rainiest during the Monsoon season. As the rains loomed large, parts of country reeled under heavy rainfall and showers and yet other parts were rain deficient. Thus are the vagaries of the weather. We braved rains and showers this month and kept up with our plans. While Handloom Day was celebrated with fervour across the nation, we did our bit by engaging people from diverse backgrounds in dialogue and discourse. We also showcased the Home collection and Woven Scarf collections at the Shop – highlighting the immense potential of our weavers and craftspeople across the state and the country.
National Handloom Day @ Sasha
Presenting: "The loom"- renewing a sense of familiarity and sensitivity to handloom. Yarn, hand-woven into beautiful garments that ooze class as much as comfort is at the core of our fabrics and sarees. Add to that the old world charm of hand woven, hand spun clothing in Silks. We believe that handloom is as much a choice of lifestyle as much as it is of design. We invited everyone to join us, in our effort to bring back the focus on Handloom weavers and their ability to create textile textures through a combination of different types of yarns and weaves. As part of the National Handloom Day celebrations, we installed a real loom at the Sasha Shop, to see and touch a "real" loom, especially for all our friends and customers.
Panel discussion@ Sasha Shop

As an extension to the National Handloom Day, a panel discussion was organized at the Sasha Shop. The theme – Handloom industry- glorious past, debatable present and hazy future. The reasons that affect the handloom industry are many, a lot of internal and external factors that are acting behind the scene. A large number of people are employed as weavers, dyers, hand spinners, embroiderers and allied artisans, using their creative skills. The potential is infinite and the problems may be many. However, the challenge is a creative and inspiring one as it will help the survival of India's multi-layered heritage, a variety of unique skills, techniques and processes lost to the rest of the world, and, most importantly, provide meaningful livelihoods with true economic empowerment to the weaver community. Renewing a sense of familiarity and sensitivity to handloom, we took the discourse further through a panel discussion, with practitioners, handloom enthusiasts and educators.
The panelists:
Ruma Sengupta- Noted Costume Designer and Actress; winner of National Award for best costume 2007 for 'Krishnakanter Will'.
Ananya Bhattacharya- Director at Banglanatak dot com, a social enterprise and a Commonwealth Scholar.
Parama Ghosh- Designer, entrepreneur, founder and owner of brand PARAMA. Also a lawyer.
Amitra Sudan Saha- Product designer, Scenographer and Collaborator; also co-founder and co-owner of SSaha, a brand promoting handwoven and handloom.
Raminder Khan-National Marketing Manager and merchandiser with Sasha Association for Craft Producer
The moderator, Sujata Goswami facilitated the discussion around the following points:
Has handloom lost its zest?
Is Handloom the common citizens' go-to choice for clothing or a style statement of the elite?
Is it fine for designers to tinker with the tradition by blending it with the contemporary?
Is there at all a revival of traditional handloom and does the future look promising?
Is the challenge about creativity or about processes?
Sasha extends a warm "thank you" to the panellists for the excellent session on 18th evening. The panellists emphasized goal-oriented training of new-generation weavers with an eye on global-local markets, while focusing on design, with sensitivity and sensibility being key. The panellists were precise and apt, each so passionately involved with Handloom in their own sphere of work; words can only express so much.
Beautiful Homes – showcasing the new home collection @ Sasha Shop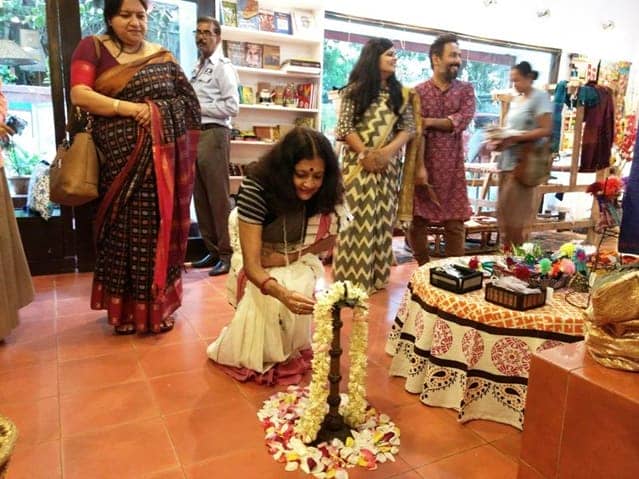 Home textiles are the superstars that soften up the edges, engage the senses and make a welcoming home. This August, we developed and curated a whole new range of handwoven, block printed and Kantha home collection. We also featured textile products from Calcutta rescues and a handwoven cleaning /mopping set from MESH called "Spic & Spun". The beautiful Homes event showcased a full range of home textiles & decor — decorative cushions, cozy throws, engaging bedcovers, comfy blankets, colourful rugs; interesting kitchen linen, dining sets, table accessories and more – all in trendy colours, patterns and textures. It was inaugurated by noted costume designer and Actress; national awardee, Ms. Ruma Sengupta.
Handwoven scarves @ Sasha Shop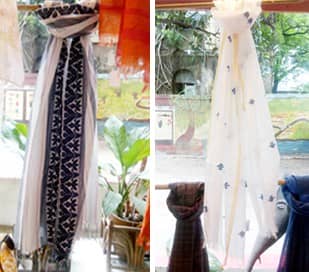 Although handwoven scarves are available all year round, this Handloom Day, they were especially showcased to promote the reach skills of the weavers, the intricacies, the play of colours and threads in a wide range of Phulia, Jamdani and embroidered scarves and stoles.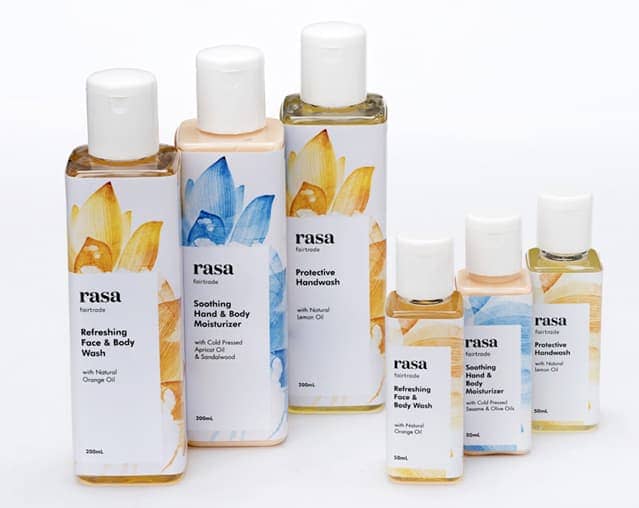 Check out our newly launched Rasa Body, Skin and Hair care products, RASA is Natural Fair Trade & Sustainable- for the conscious you
Rasa products are all natural and herbal, made with cold pressed oils. They are free of Parabens and Sulphates and use natural and safe preservatives. They are not tested on animals.
Sasha was at Baaya designs in Mumbai and at Basava – tales of Handloom in Bangalore this month. We received great feedback from both the expeditions!
Keep an eye on our social media pages- Facebook and Instagram for the latest happenings, products and events. See us at CIMA- Art for Life, Kolkata – the whole of September. And our special Pre-Puja, festive at the Sasha Shop. Do drop in!