Welcome to May!
The month of May also marks World Fair Trade Day. It is an initiative of the World Fair Trade Organization (WFTO) that takes place on the second Saturday of May each year. So mark your calendar: 12 May 2018 is #FairTradeDay. It is an inclusive worldwide festival of events celebrating Fair Trade as a tangible contribution to sustainable development, especially the economic empowerment of small producers, gender equality in workplaces and responsible production practices. WFTO and its members believe that trade must benefit the most vulnerable and deliver sustainable livelihoods by developing opportunities for small and disadvantaged producers.
World Fair Trade Day at Sasha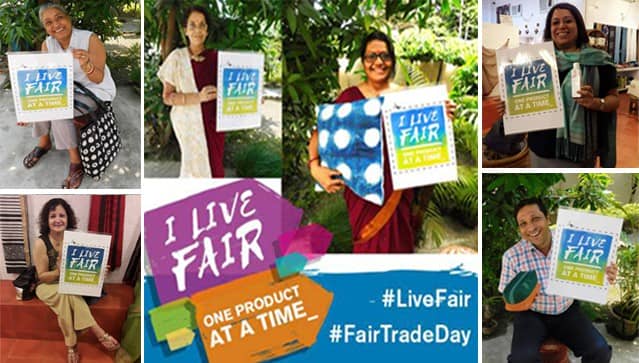 We celebrated World Fair Trade Day on 12th May at the Sasha Shop with the theme LIVE FAIR, ONEFAIRTRADE product at a time. The celebrations started with the Inauguration by Prof Ranjan Mitter from Indian Institute of Calcutta; also the President on Board of SSA. This was followed by the announcement of the Earth Day competition prizes by Neela Majumder from Earth Day Network India who gave away the prizes to the winners from our producer network.
1st Prize – Sagarika Embroidery
2nd Prize – Umzara Tailoring (Shabana Nasim)
3rd Prize – Self Help Handicraft Society
Sustainable and Fair Trade collection of clothing and accessories were showcased by Maku Textiles, Paromita Banerjee, Kumbaya and Rangsutra. There was an amazing live Jazz performance by Hania Luthufi and Nabanita Sarkar who sang songs on Earth dedicated to the earth and her inhabitants. https://www.facebook.com/sashafairtrade/videos/1712994952071288/
All the guests thoroughly enjoyed the lovely evening with beautiful products, live music and delicious treats as we renewed our commitment to – Live Fair, One Fair Trade Product at a Time!
Sasha at an international workshop, WFTO Asia
Sasha CEO, Roopa Mehta was invited to an international workshop about Creating Cross-Border Peace Building Platforms between Thailand and Myanmar. The conference was jointly organized by WFTO-Asia along with Payap University, Institute of Religion, Culture, and Peace – Payap University. It was hosted by Women's Education for Advancement and Empowerment (WEAVE), and the Center for Social Impact. The Irrawaddy – English Edition composed a detailed recap of critical discussions concerning economic empowerment through Fair Trade, the peace-building process in Myanmar, and solutions to help internally displaced persons.
The Sawasdee Chiang Mai Radio Show hosted with the special guests from World Fair Trade Organization Asia talking about their mission towards Sustainable Development in Thailand and Region. Roopa Mehta was one amongst the guests.
Exposure Visit
SSA had organized an exposure visit for its partner organization ATI http://www.atindia.org/ under SOIR-IM project. Appropriate Technology India (ATI) is a non-government organization that works with mountain communities of Uttarakhand, offering them innovative alternatives to subsistence agriculture. Its broad mission is to assist village communities in the Western Himalayan eco-region to conserve their natural resources. The purpose of this exposure visit was to provide exposure to and hands on experience to improve the overall process of weaving, and colour fixing in oak silk specially indigo and black colour.
Design workshop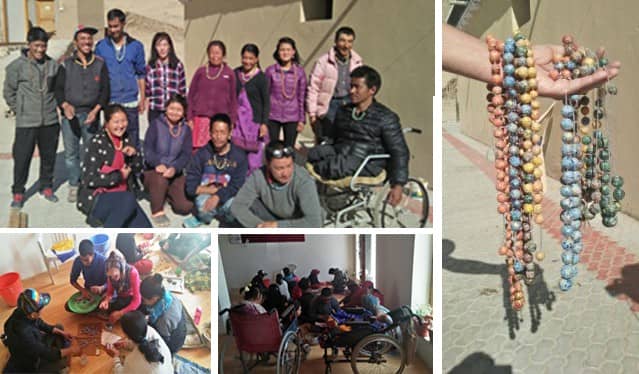 SSA organized a Design & Product Development workshop at PAGIR under SOIR-IM project. The peoples' Action Group for Inclusion & Rights (PAGIR) is an organized effort by people with disabilities, their families and friends to create a society that is more inclusive and free of prejudice. An artist from well paper project went to Leh & worked with the local artisans in terms of product designs and developing new products through recycling and upcycling of waste in their surroundings. The workshops were very well received and appreciated.
Thank you for reading. Stay tuned as we bring some exciting news next month as we celebrate World Environment Day.