And what an April we had at Sasha! A fitting start to the new financial year. As we hailed the Bengali New Year, we renewed our commitment to #stoplasticpollution on Earth Day and urged everyone to ask #whomademyclothes during Fashion Revolution Week. After all, we love fashion, but we don't want our clothes to come at the cost of people or our planet. FASHION SHOULD FEEL GOOD. Join us, to keep the conversation going.
Bengali New Year @ Sasha

The Sasha Shop offered a Boishaki treat for all saree lovers in the city on this Poila Boishakh, the Bengali New Year! It's the time to renew relationships, books of accounts, wear new clothes, deck up your homes and eat to the fullest! So, what was special this time? We had sarees, blouses and accessories to match. We presented Parama's "Stories of Fabric" for the first time in our shop. Parama is a label by the young and passionate designer and craft enthusiast, Parama Ganguly. Her work offers a snippet of the city of joy, flowers that line the Red Road and Maidan, sunflowers, yellow taxis that teach the art of saying 'No', the bells of the rickshaw, soulful conversation, and ideas born over chaa.
The tales of every day are told on fabric and made into wearable art. This April, we showcased Parama Ganguly's exquisite range of blouses, sarees and dhutis; along with exquisite Bengal Handloom sarees from Phulia and Begumpur; Varanasi jacquard Jamdani, and Dongria sarees from Odisha.
Sasha@ Dastkar Summer Weave
Sasha participated in Dastkar Nature Bazaar's "Summer Weaves" this April with gorgeous linen sarees, Jamdani duppattas, jewellery & more. We are at Gali-e-Khas, Shop no. 44 throughout the year.
Earth Day 2018@Sasha
This Earth Day, we hailed people to start something new to stop Plastic Pollution. WHAT DO WE KNOW ABOUT PLASTIC POLLUTION? Plastics are some of the most commonly littered items in the world and they are drowning our planet. Is this a real problem, we might ask? Plastics have come to clutter almost every landscape, but they are so useful and have made our lives much easier. Plastic pollution is one of the most important environmental problems that we face today. It impacts the environment and our health and well being. We have all contributed to this problem – mostly unknowingly – and we must work to reduce and ultimately to End Plastic Pollution.
As Fair Trade organizations, we take pride in being able to contribute towards a cleaner environment. But the danger of plastic pollution looms large. At Sasha, we had organized an "eco-friendly and affordable" shopping bag competition amongst our producers. A jury was called in to select the winning entries. The awards would be declared on World Fair Trade Day. We were also happy to participate at the exhibition in the city on the occasion of Earth Day with Liberty Videocon General Insurance Company Limited on 21 April 2018
Fashion Revolution Week from 23rd to 29th April@Sasha
Fashion Revolution Week is our #whomademyclothes campaign in April, which happens at the time of the Rana Plaza factory collapse, where 1,138 people were killed and many more injured on 24thApril 2013. Fashion Revolution is only four years old and already the world's largest fashion activism movement. We use this week to encourage millions of people to ask brands 'Who made my clothes' and demand greater transparency in the fashion supply chain.

It is our endeavour to unite the fashion industry to start talking about how to radically change the way our clothes are sourced, produced and purchased so that what the world wears has been made in a safe, clean and fair way. On this Fashion Revolution Week, we succeeded in bringing together a diverse set of people, eminent in their respective fields to participate in the discourse around Fashion Revolution and the need for greater involvement with issues concerning the clothing and fashion industry.
The week began with a panel discussion on the discourse around Fashion Revolution and the need for greater involvement with issues concerning the industry. The programme was inaugurated by Mrs. Ruby Pal Choudhury, Dr. Paula Manfredi and Mrs. Roopa Mehta, followed by an introduction by Sujata Goswami for Sasha and the Fashion Revolution. This was followed by a brief presentation by Mr. Amitra Sudan Saha from Weavers and Designers. The panellists included Mr. Ajoy Bandhopadhyay, Director, MSME, Amrita Mukherjee, Sutra Textiles and Ruhi Das Chowdhury, Faculty, NIFT. The garments from Weavers and Designers were inaugurated on 23rd April and were on display throughout the week.

As a fitting finale for the week, a Fashion Walk was organized where girls from Shanti Rani Home, an orphanage run by Sisters of Charity, modelled the clothes from Weavers and Designers and Sasha. The girls' poise and confidence were there to see! They walked with great dignity amongst cheering and clapping from the audience. Ms. Anamika Debnath, faculty NIFT, shared the best entry from a student: "love letter for my favourite piece of clothing."  A special mention goes to our intern Shantanu Gosavi, for a mesmerizing classical dance number.
SOIR-IM Partners Network Meeting-10th-12th April 2018
SSA participated in the Annual Partners' Meeting of SOIR-IM's country office in Rajpur. A three-day training cum workshop on strategic planning was part of the SOIR IM's Strategic Plan for 2019-2023. In the workshop, Mr. Anand Kumar, who has done the evaluation of SOIR-IM's partner organization as part of IM's global evaluation, shared the key insights of his evaluation. Mr. Pratik Kumar shared the process of SOIR-IM's strategic plans. Praxis team dealt with IM's theory of change, problem tree, contextual analysis, stakeholder analysis and baseline study, which was very useful for us. On their return, the SSA team members shared their key learnings from the workshop with their colleagues.
Training & Workshop@SSA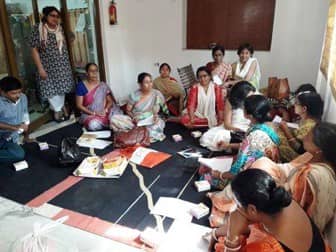 SSA organized a workshop on orientation on planning and monitoring methods and templates for textile producers. Nine participants from as many producer groups attended the meeting.
This workshop was organized to encourage producer groups to maintain consistent production monitoring sheets and inspection at their end.
Sasha was live at Jaypore.com this April with its- Scoop of Sorbet -Wispy linen sarees in joyous hues!
https://www.jaypore.com/shop-collection/scoop-of-sorbet-sasha-wispy-linen-sarees-in-joyous-hues-9075
Visits & visitors@Sasha
There were a significant number of visitors in terms of existing and new customers, heads of organizations and so on, this month, making April one of the busiest so far. Mrs. Roopa Mehta visited Japan to visit our committed Fair Trade partners, People Tree and Sisam.
Thank you for reading. Stay tuned as we bring some exciting news next month.