Spring is the season of new beginnings. Fresh buds bloom, animals awaken and the earth seems to come to life again; a time for renewal, for looking back and making new beginnings. We bring you another month of exciting news.


Celebrating crafts and textiles!
Tsutra is the coming together of Sasha and Sonam Dubal of 'Sanskar', a leading fashion designer and revivalist. The collaboration celebrates craft and textiles respecting Fair Trade values, indigenous culture and the environment based on the concept of recycling, traditions of weaving and embroidery working on concept exhibitions and showings through the Country. Tsutra leads in promoting Sasha's message of promoting an affordable and sustainable luxury lifestyle, bringing together a unique collection of clothing for women with Bengal traditions. The Tustra Bangalore presented an eclectic collection of clothing crafted to perfection and complimented with stylish personal accessories like leather and textile bags, batuas, dhokra jewelry, and recycled hand beaded jewelry. The colour palette was a mix of black and white, deep hues of indigo and earthy tones in courser cottons, fine Mulmuls, Ombre hues, textured silks and light cottons. Tsutra was exhibited at the Rain Tree, Bangalore from 15th – 17th February. We received encouraging reviews and an overwhelming response from a very well-informed consumer.
Celebrating Valentines Day at Sasha Shop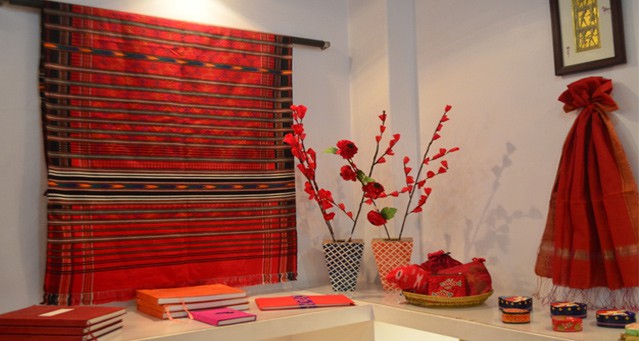 Made with Love, for love!
We celebrated Valentine Day at the Sasha Shop by offering a range of unique Valentine's Day gift ideas for everyone to find the most special gift.
Up cycle exhibition Sasha Shop

Creativity is making marvellous out of discarded!
At Sasha, we believe in making marvellous products out of the old, repurposing the discarded. We displayed upcycle products at the shop in fashion, home décor and more. The Shop looked splendid with the wonderful products.
From The Field – A visit to Little Flower, Leeway Handicrafts, AT India and Purkal Stree Shakti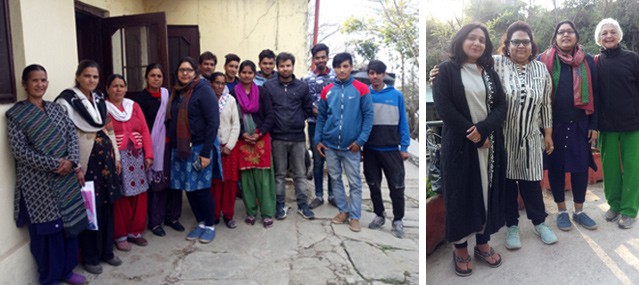 It was quite an eventful month for the SSA team as they visited four of their partners under the IM project. SSA has been working with SOIR-IM for the last 3 years.
The SSA team visited Little Flower in Bihar; Leeway Handicrafts, Purkal Stree Shakti & AT India in Uttarakhand as part of the scoping and monitoring visits. Apart from close interaction with partners, these visits clarified the further plans for the inputs required and effective project intervention. We wish to have a significant association with them in future.
Japan Study Tour

The long awaited study tour!
A team of 20 members from Japan visited Sasha for a study tour on behalf of our long standing fair Trade partners People Tree Japan. We had planned an exciting product development workshop with the team and our colleagues at Sasha. The workshop analysed Sasha products for PT Japan and in general, with the objective of understanding how they were placed vis-avis the Japanese markets. It was a useful exercise that helped both the visitors and the hosts improve their understanding. Followed by the workshop, the group visited Sasha Shop and shopped to their hearts content! The concluding part of the tour was a filed visits and DIY on block printing at one of our producer partners outside the city. The visitors thoroughly enjoyed their time at the unit and also had a taste of local Bengali cuisine and a bit of colors.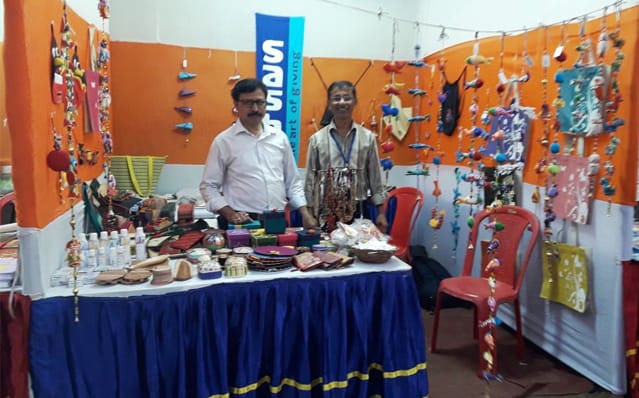 Books just don't go with you; they take you where you have never been!
As part of the Centenary celebrations of the Alumni Association of Jadavpur University a book fair was organized by The Nation Council of Education & held at Jadavpur University campus from 21-25 February with some old publishers. It is one of the oldest book fairs of Kolkata. Sasha was proud to be associated with the book fair and put up a stall with our handmade knick-knacks.
We look forward to the Women's Day celebrations next month. Although we believe that there are so many wonderful reasons to celebrate Women's Day all year. At Sasha, March 8, it is another good reason. #livefair #guaranteedfairtrade.
Thank you for reading.
Stay tuned for more exciting news and information about Sasha!