Come March, and there is a buzz in our offices. With the financial year coming to an end, there is a sense of urgency to complete pending orders, shipment, and projects. All this, to put our best foot forward in the new financial year, which is also the Bengali New year or the Poila Boishakh. This is also the spring season, a season of renewed hope and beauty; and colour and vigour.
Celebrating International Women's Day 2018 at Sasha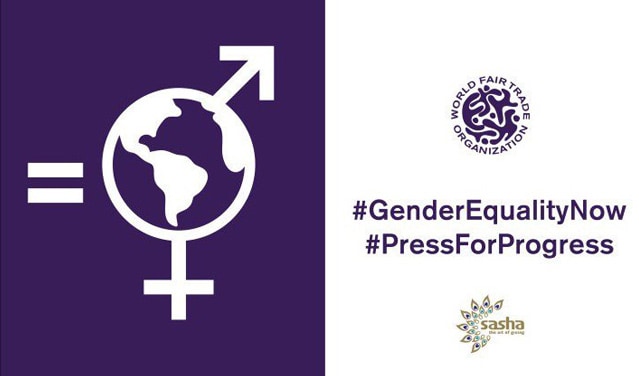 #GenderEqualityNow #PressForProgress
We were part of a Facebook campaign- in line with WFTO that started from February 28 till March 8. Additionally, a twitter campaign was also planned with all major WFTO regional bodies. Sasha joined the twiteratti; all day based on a framework and engaged several more people. Sasha friends collaborated by sending videos on women's day. On March 3rd, at the staff meeting, Sujata Goswami led the session on IWD with a talk about IWD and what prompted this day; some statistics on gender inequality. A 4 minute talk from the TED TALKS INDIA SEASON was screened for the staff where – Acclaimed author Manju Kapur breaks certain archaic gender stereotypes with some hard-hitting questions. We asked 3 of our male colleagues to talk about Gender equality in our organization.
IWD at Sasha Shop (March 8 – with producer partners)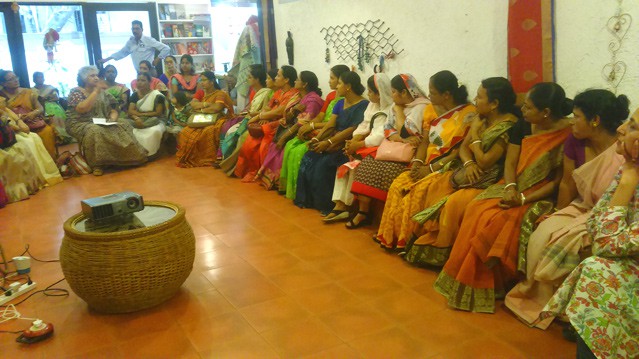 We invited 25 of our producers at the Shop to talk about IWD and what prompted this day; some statistics on gender inequality. An interactive session was organized. The discussions were on (1) realising women's rights through legal and legislative changes; and (2) empowerment of women in social (including family), economic and political spheres to ensure balance of power in decision making and leadership. This was moderated by Shubha Das Mollick, Faculty – Media Studies, iLEAD. Also screened was the full episode – Power to Women – TED Talks India In the fifth episode of TED Talks India Nayi Soch, the underlying theme is 'Meri Marzi | #PowerToWomen' and has some exemplary personalities like film and TV producer Ekta Kapoor, co-founder of the #100sareepact Anju Kadam, medical officer Dr Ramindar Dhillon, engineer, innovator, and entrepreneur Mihir Shah, and the captain of the Indian women's cricket team Mithali Raj, as the speakers.
Workshops with textile and garments groups at Sasha
Upgrading the skills of our textile and garments groups has been a continuous feature over the years. This is necessary to match step with the ever-changing demands of the markets and the customers. We organized a series of skill enhancement workshops with our core textile groups with noted designer Sangeeta Sen. Ms. Sen is a NID alumni and a is hugely experienced in the skill and business aspect of the textile sector. She shared her knowledge on best practices printing, placements of blocks, finishing, wastage control and layouts. The workshop also included with Sangeeta getting the group leaders and master artisans involved in thinking "quality". She assessed samples and analyzed them. She spoke about the existing issues and also suggested improvement. The participants were happy that they were introduced to new stitching techniques and were shown how to improve the quality of their products. While Karobi and Mousumi from SSA facilitated the workshops, Rita, Subroto and Pradipta, from Sasha attended the workshops.
Special offer at the Sasha Shop
At the end of each financial year, Sasha Shop offers a special opportunity to our special customers. A range of clothing, home textiles and knick-knacks were on offer at a special price for a fortnight.
Eye camps at Sasha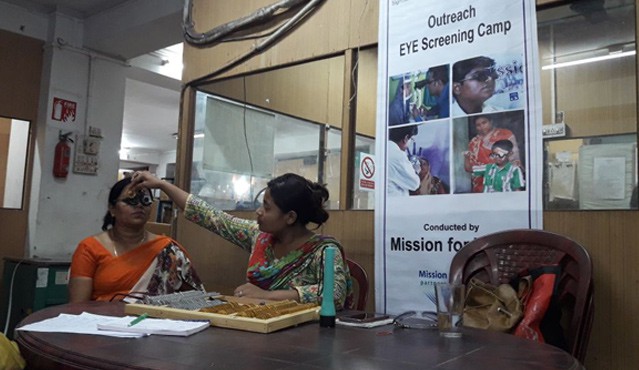 Sight Savers West Bengal has been a long-term partner for SSA. Mission for Vision as part of the Sight Savers Kolkata Urban Slum Programme initiated the mobile Diabetic Retinopathy (DR) screening programme in Kolkata. Mission for Vision (MFV) is an NGO working to combat avoidable blindness and promote a disability-inclusive world. In partnership with 21 reputed centers in 14 states of India. Sasha is committed towards the holistic wellness of its artisans and warehouse staff. And therefore, SSA initiated Eye Care Programme with Mission for Vision. One eye camp held at Self Help Handicrafts Society which is the oldest producer group of SASHA; second eye camp held at Sasha Warehouse for few groups & Sasha staffs. Total beneficiaries of these two camps were 47. The initiative was well accepted by participants. The camp was organized and facilitated by Mousumi Mukherjee from Sarba Shanti Ayog.
Market exposure of Purukul Stree Shakti under SOIR-IM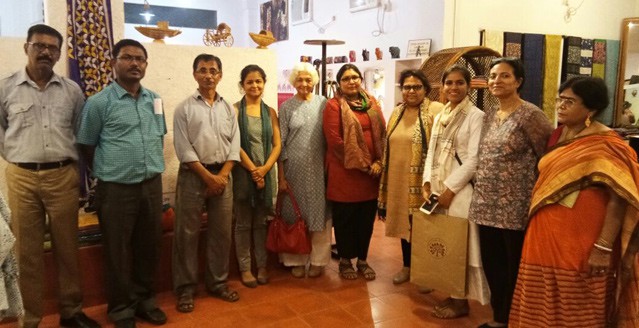 Purkal Stree Shakti Samiti is SSA's new partner organization under SOIR-IM project. They visited SSA for working on developing a new and economical range of their home textiles and sourcing different types of fabric. We are expecting to have more close association with them in future.
Visit to Bihar

Mrs. Roopa Mehta, CEO of Sasha & Sujata Goswami, Executive Director of SSA visited Patna and Darbhanga, on invitation from the SRLM or Jeevika Bihar for an exploratory visit to the newly developed Mithila painting and Sikki grass clusters. This visit is aimed at identifying the possibilities of scaling up the clusters in future.
Endnote
Follow our Facebook posts and stay tuned to the newsletter section for regular updates! Coming up in April- Poila Boishakh Pop up, Earth Day and Fashion revolution Week. Write to us if you are interested for pop-ups or want to join any initiative.