Colorful candles and crafts
Asha Niketan runs a craft workshop in Tangra, Kolkata, where they make beautiful candles, batik prints, paper bags, greeting cards, and tie & dye products. The thing that sets their artistic products apart, is that they are all made by people with mental disabilities.
Asha Niketan is a part of a worldwide initiative (L' Arche) that provides shelter, education and counselling for people with mental disabilities. The Kolkata operation provides adults with residential care and a day-work program. Children are catered to with a daycare service. Adults with mental disabilities are engaged in economic activities which instil a sense of confidence and belonging, as well as providing them a dignified income. About 20 people are directly engaged in these productive activities.
The idea is that the community should provide more than just empathy and care. Vocational training is provided to involve members in a gainful. Since 1981, Sasha has supported Asha Niketan with skill training, design development, technical assistance and market access. Sasha promotes a significant portion of the wonderful handicrafts they produce to international and domestic markets.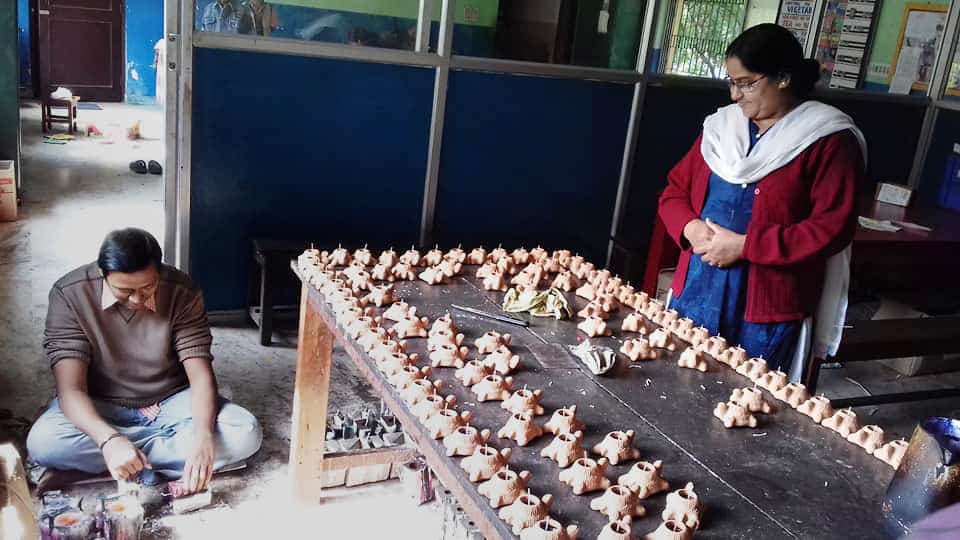 Asha Niketan – the Kolkata unit of Le' Arch was established in 1973 near Sealdah Station. It is an inter-religious, inter-caste organization. But most importantly, the staff and disabled people are all considered equal. The organization's main sources of income are foreign and domestic donations supplemented by the sale of handicraft products. Sasha helps them by selling more than 80% of the candles they produce.
Presently they cater to nearly 50 mentally disabled people, with around 20 children attending the Day Care Centre. They are provided with food, medicine and all other necessary things. Co-curricular activities (like-art, painting, sports etc.) are organised for the residents. The aim is to try and provide them a welcoming atmosphere. As they become adults, they are given vocational training. The vocational unit continues to operate in two separate buildings and provides a source of income to the residents.
Learn more about Asha Niketan.
Explore products by Asha Niketan