Beautiful Garments & Home Furnishings
Kolaghat Socio-Economic Welfare Society (SEWS) was established in 1984 and works in the villages near Kolaghat, Midnapore. It is a success story! Starting with just 3-4 uncertain young village women who couldn't sew, it has grown into a 35 strong women's enterprise catering to discerning urban customers and challenging export markets. Their specialties are garments, embroidery and home fabric furnishing products. From the very beginning, Sasha provided support in matters of organization, training, product development, management and welfare of the women involved.
From Nothing, a Challenging Road to Success
In 1983, a frail but energetic young man Shankar Chakraborty from Asurali village in Kolaghat, secretary of a local men's club, took the initiative to organize training, in cutting and tailoring for some of the women in and around his village. There were 18 of them, some had been deserted by their families, some widowed and others unmarried young women trying to find a way to supplement their meager family incomes. The club members hoped that having been trained in tailoring, the women would eventually be able to start up small initiatives of their own. What they didn't account for was that these women had never travelled out of their village and had very little idea of how to run a business. They simply did not have enough skills and so after a year, they were back to square one.
During this time Shankar often visited Calcutta in search of funds and programs for their various needs. He discovered Socio-Legal aid Research and Training Centre, (SLARTC) an organization dedicated to bringing legal awareness to people at a grassroots level – especially women. SLARTC introduced him to Self Help Handicrafts Society, a successful women's business enterprise, who were working closely with Sasha. A meeting was held in Kolaghat with 18 women who had expressed their interest in income-generating activities. It was quite clear that they were unable to do things on their own and would need to work together.
In Calcutta, Sasha was organizing a skill up-gradation workshop for some of the Textile Artisan's Association groups. The workshop was to be held at Self Help Handicrafts Society and two participants from Kolaghat were asked to join. This was the first time they had travelled to Calcutta on their own and were to spend more than a week away from home. During the workshop they interacted with several other groups like themselves trying to find a solution to their many problems. They also picked up skills to produce more marketable products and tried to grapple with the intricacies of costing and pricing. Visits to Sasha shop and other shops gave them some idea of the markets they might want to sell to. Visits were also organized to the wholesale markets to look at possible sources of raw materials.
Back in their village, the women under the stewardship of Deepali tried to plan the next course of action. As they had no capital, so they started collecting money and repaired their old machine that was donated by the club. They also purchased some thread, needles and machine oil. The Self Help women had given them a whole bundle of cut pieces of different fabrics. This they decided to use to make small items for a Sasha exhibition. It was June 1984 and the first production of oven gloves, potholders, aprons and bags were being readied. The order for Sasha exhibition was completed and delivered in November. And they made their first income after all these months of hard work. The items sold well and Sasha shop placed an additional order too. This gave an enormous boost to their self-esteem.
During the first financial year 1984-85 their turnover was less than Rs.10,000. This entire income was pooled back into their rolling capital. It was also the time to formalize the effort into a legal entity. The members of the men's club and the women's group together formed a non-for-profit organization, Kolaghat Socio Economic Welfare Society. The Society was registered in March 1985 with a total membership of twenty-five. In the next two years the turn over of the tailoring unit more than doubled with regular orders from Sasha. The number of women too had gone up. Besides tailoring, the women were also doing some high quality embroidery, after having participated in a skill enhancement workshop by Artisans Association.
In January 1988, the society hired a room and for one year, they functioned from there. It was here that the group began looking for further skill enhancement and possible forays into the local market. The first Garments Workshop was held here with a resource person from Self Help Handicraft Society. By the end of that year, the group had increased to 15 and shifted to a bigger and more accessible place. At the same time, the women's group continued with their orders and other skill development activity, participating in embroidery and design workshops etc.
Their business too grew, and now they were a full-fledged garment making unit having purchased more sewing machines and five overlocking machines. Their turnover has increased steadily. The growth was not only in terms of money but also in producing more value-added products and patterns – graduating from cotton to silk and chiffon fabrics.
Now the total numbers of women artisans are 37, while 2 or more girls are continuously trained. In 2002 they added a new work shed to the existing one, built totally from their own funds. They have also introduced insurance and several medical benefits for their members and contribute to their community in various ways. It gives them all a sense of pride in their achievement while putting a lot of responsibility on them for the example they have set for others.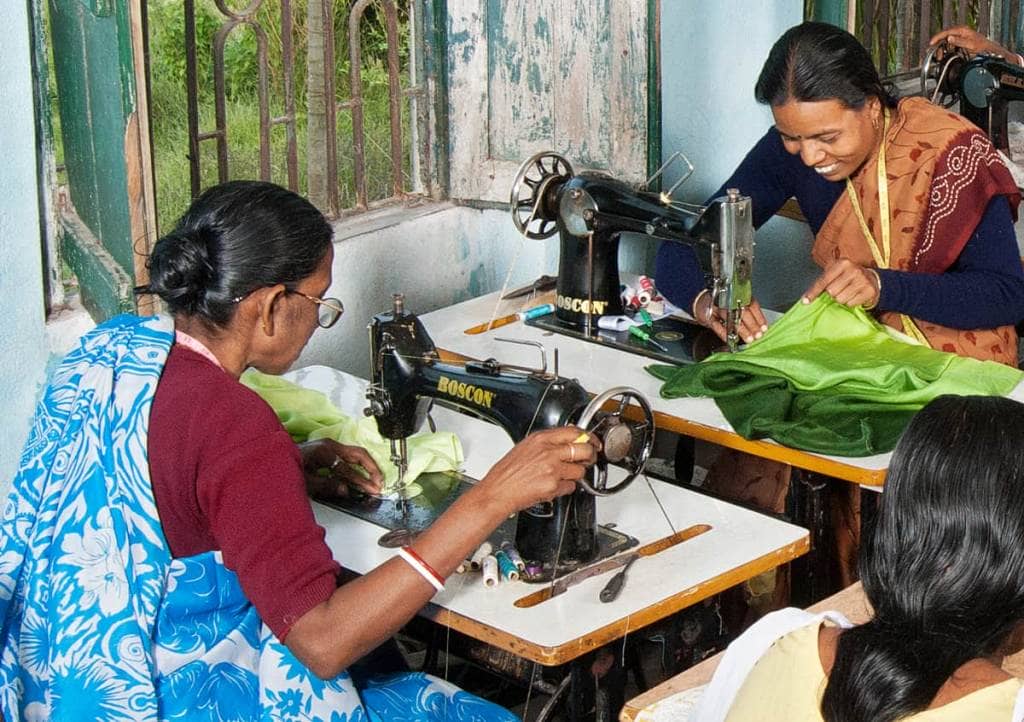 Explore products by Kolaghat Socio-Economic Welfare Society