A Kantha embroidery initiative for women
In the late eighties, with encouragement from Sasha, Chhandabrati Weavers, created an embroidery unit solely for women. They are mainly engaged in Kantha stitch works, producing a range of home accessories like table mats, bedcovers, cushion covers, scarves and stoles. The women's group receives inputs in product and design development alongside the other embroidery groups of Sasha. The women deduct a part of their income, which is collectively saved on their behalf by the organization and serves as an emergency fund. Amongst the embroidery groups within Sasha's network, the group's savings scheme has been a pioneering initiative.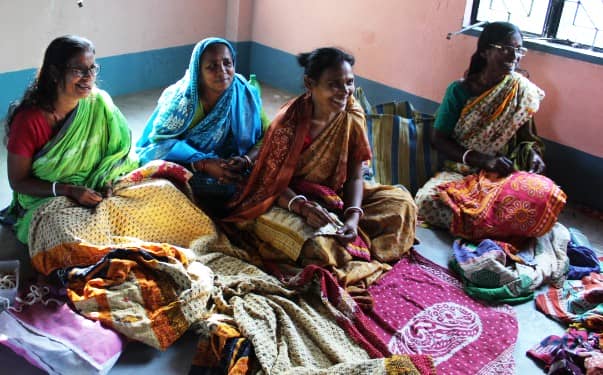 The women in this group are excellent embroiders and have been trained to work on traditional designs suited for contemporary and western markets. Traditionally, Kantha is done at home in these regions.  In addition to Kantha embroidery, the women have also started doing tailoring as well. This has resulted in value addition to their products from embroidered patches to made-ups like stoles and cushion covers. Exposure to the Fair Trade market and linkages to design and product development is through Sasha only. They also supply the domestic market through Sasha's retail outlets and exhibitions.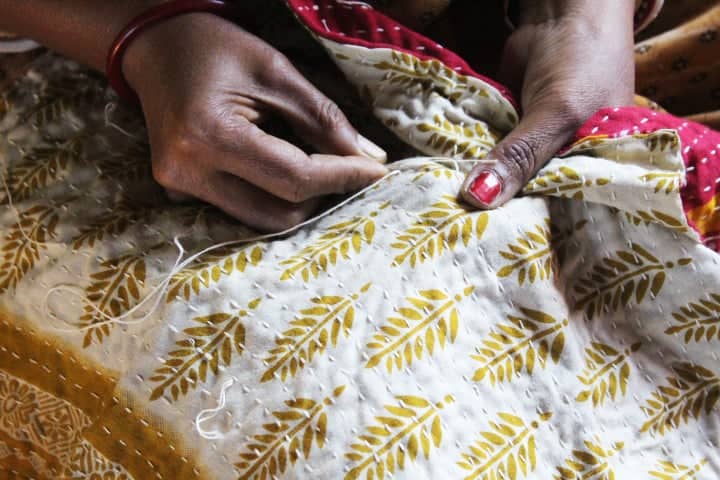 Presently, along with the weaver's community, Chhandabrati Mahila is sharing an upgraded infrastructure, with a new building and proper workplace. This has brought in a fresh enthusiasm amongst its members who lost their able leader some time back. They are lead by Khuku, who has been with the women's group for a long time and handles most of the responsibilities.
Explore products by Chhandabrati Mahila Samity