Traditional Handloom Weaving
Hand-loom weaving is a traditional craft in this part of India, flourishing in and around the ports and trading centers. Tamluk in Midnapore is one such ancient center. In 1972, Lalit Khanra, a medical student realized that something needed to be done to improve the health and standard of living of the people of his ancestral village. So he encouraged the young men in his village to form a group called 'Chhandabrati', which roughly translates as 'Rhythm of Life'.
Chhandabrati is an umbrella organization that supports artisans and producers including weavers, farmers and women. The Samity (Society), has also organized non-formal education programs in their village, although these are dependent on the availability of funds and staffing.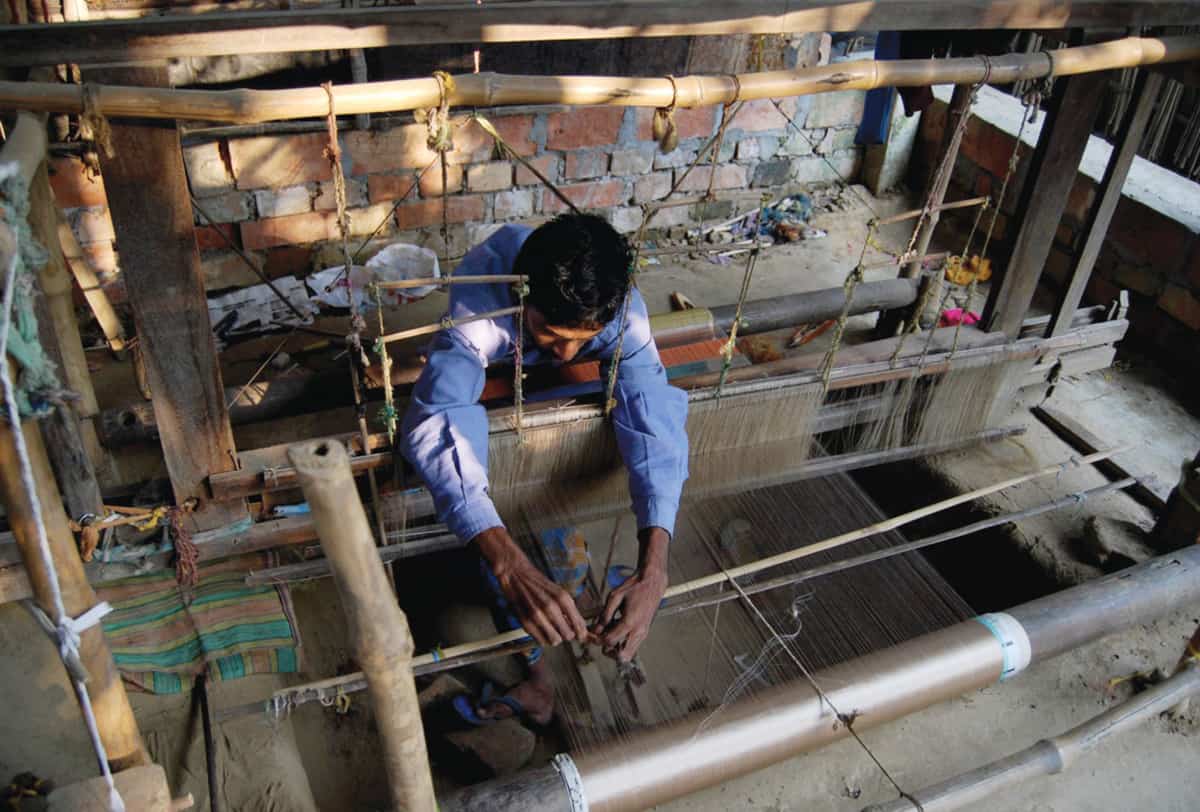 Creating a Pathway to Global Markets
Although many changes have taken place at Chhandabrati over the years, the center still pulsates with the rhythmic sound of handlooms, providing work directly and indirectly to fifty men and women of the village. The Society currently has twelve weavers and around four supervisors and managers, all men. Approximately thirty-five women are indirectly employed in preparing the spools and bobbins. They are also involved in other activities such as setting up of the loom. In the village center, one group of weavers has about twenty looms. Here there are around fifteen highly skilled weavers, some of whom have been there 3-4 years, whilst others have been involved for over 30 years.
Sasha is Chhandabrati's main marketing channel. The group also receives exposure to the Fair Trade market and linkages to design and product development through Sasha. Their products are sold through Sasha's retail outlets and at exhibitions. There is scope for further growth as handloom weaving has great potential.
The group also produce items such as yardage for dress materials and home accessories for the local markets in Midnapore. This has become increasingly difficult, however, due to the popularity of mill-made fabrics.
Chhandrabati Weavers are one of Sasha's most committed producer partners in terms of adherence to Fair Trade Principles. They have sound working systems and documentation.
Infrastructure upgrades for a Greener future
Over the last few years, Chhandabrati has planned and worked towards upgrading its infrastructure with financial and technical support from Sarba Shanti Ayog and Sasha. They have constructed a modern work-shed with designated spaces for storage, sampling, office work and looms. As a result, the members have enthusiasm for the future. A dyeing unit and a wastewater treatment facility will be their next project.
Explore products by Chaksimultala Chhandabrati Weavers