Modern printing & dyeing facilities
Brindaban Prints is a modern, rural-based hand dyeing & printing unit that has been working with Sasha for over 12 years now. They specialize in hand-printing of various fabrics with core competencies in dyeing, as well as block and screen printing work. The printing is done by hand on cotton, linen, silk and any kind of fabrics. The dyeing process includes acid dyeing, direct dyeing, and pigment dyeing. The unit engages about ten skilled artisans, plus sampling staff, a color master and trainees.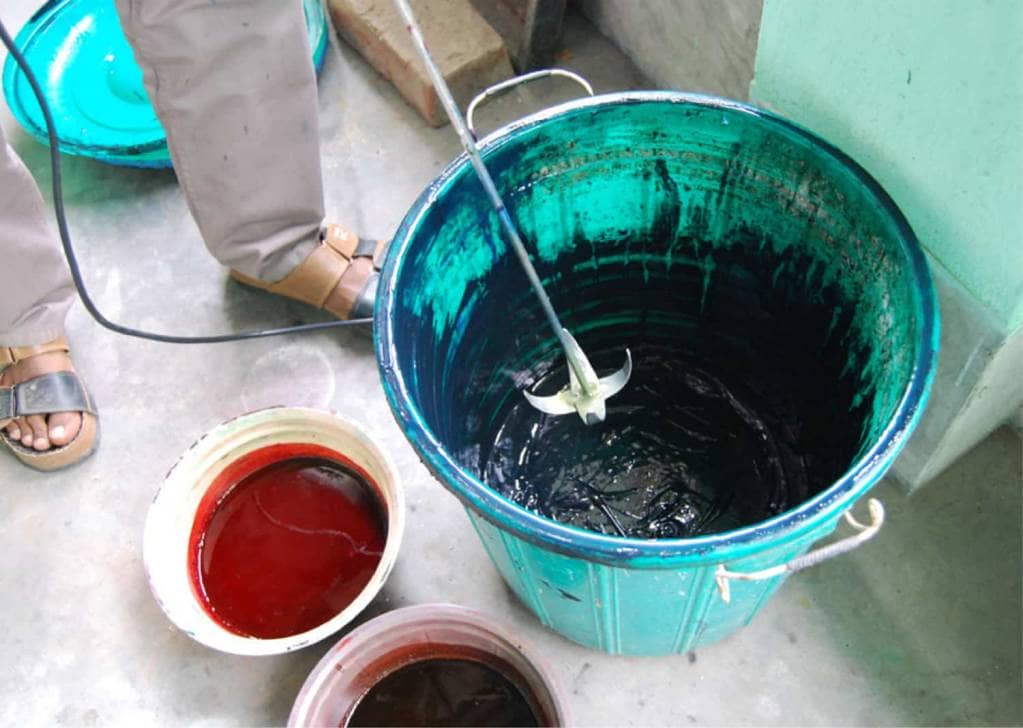 It was started by Brindaban Ghosh, a skilled printer who also taught at the nearby Sreerampore Textile College. He began working from a small unit at his home producing printed home textiles and accessories for Sasha' s clientele. Initially, he only did hand block printing on two tables with help from a few other artisans.
As demand grew, more artisans joined him and he installed four more tables and a couple of screens for screen printing as well. Due to its proximity to the printing cluster of Sreerampore and the huge demand for artisans, they were not easy to come by. However, because of his good-natured way of working, a number of artisans joined Brindaban Ghosh to learn from him.
Tragedy strikes
It was a tragic loss for his family and the unit when Brindaban Ghosh passed away suddenly. His sons Dhritiman and Ritiman Ghosh were too young to run the unit on their own. But, in order to sustain their family, young Dhritiman left school to run the printing unit with the help of his mother. Due to the goodwill generated by his father, most artisans came back to work. Sasha continued to support the small unit through marketing as well as providing moral support to Dhritiman during this period.
Modernization leads to growth
In 2015, Sasha decided to help him scale up his activities and move towards creating a small but modern dyeing-printing unit. With an intensified marketing drive from Sasha and matching production efforts from Brindaban, the unit's business turnover more than doubled in just two years. Both brothers, Dhritiman and Ritiman Ghosh share responsibilities for the unit, while their mother takes care of the domestic side.
Dhritiman, the entrepreneur behind Brindaban Prints, is committed to social and environmental causes. In addition to creating income generation and training opportunity for the local artisans and craftsmen, Brindaban Prints is gearing up for pollution control mechanisms.
Explore products by Brindaban Prints