Supporting Tribal Artisans in Orissa
'Anwesha' was formed to provide support to tribal families, effectively utilizing their skills to promote income generation and employment opportunities. To provide better educational, health care and sanitation facilities; to encourage unity, integration and cohesion among the tribal people and fulfill basic needs such as food, clothing and shelter. Over 300 families have benefited from Anwesha's activities and are located throughout Orissa.
The majority of the artisans who work on tribal jewelry & dhokra, are highly skilled. Men and women work on the products and earn according to their capabilities. The raw materials used for making dhokra are recycled and scrap metals, while the raw materials used in jewelry production are bought new.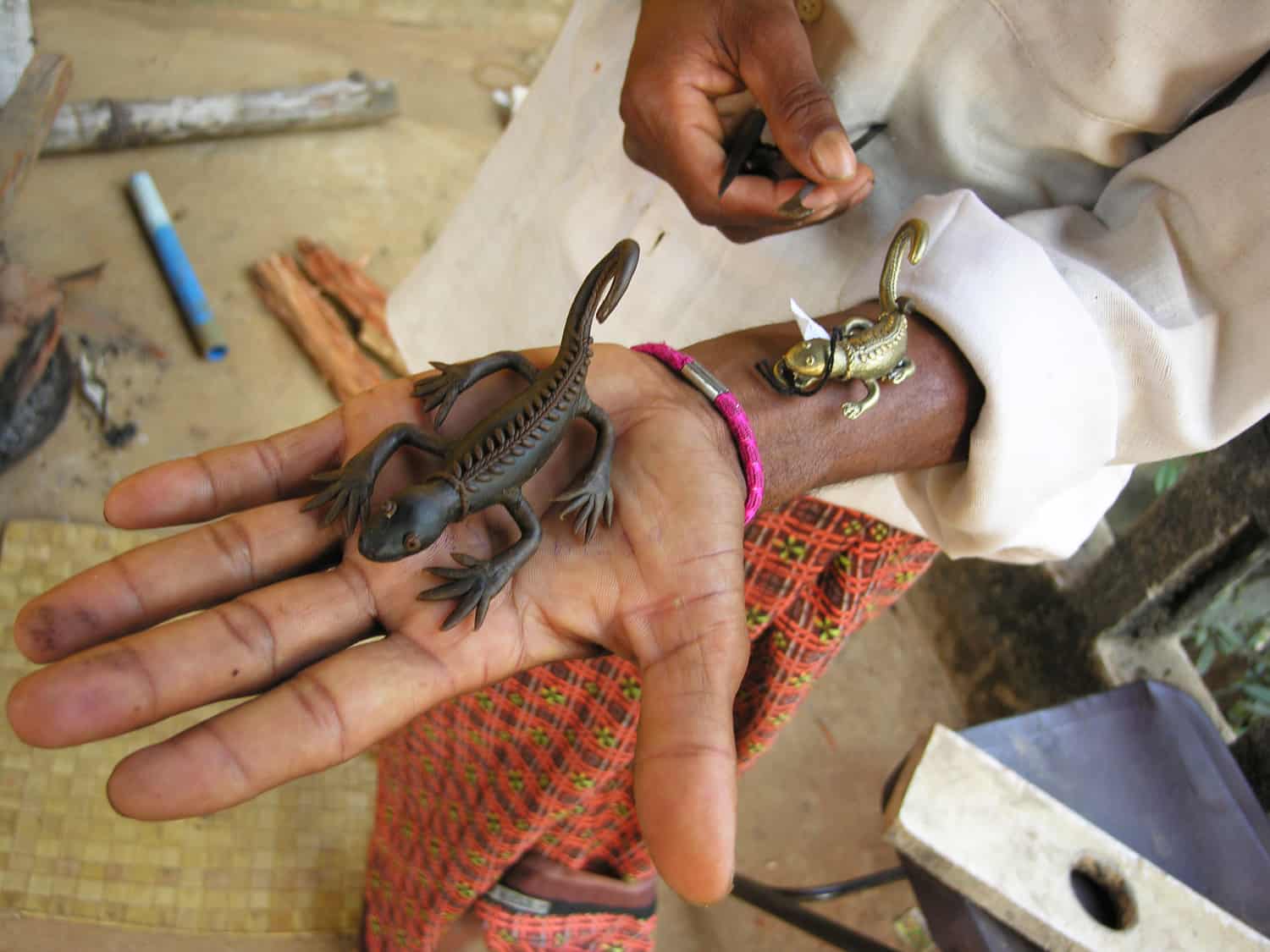 A Major Fair Trade Player in Eastern India
Anwesha Tribal Arts & Crafts is a major Fair Trade organization in eastern India. It was established in 1989, by Mr A.C Sahoo, under the Societies Registration Act of 1860 XXL and is a state level non-governmental organization. Its headquarters are in Bhubaneswar, the State Capital of Orissa. The founder and staff members of Anwesha have aligned themselves with the Fair Trade movement and promote the concept of Fair Trade among its producer groups.
Orissa contains one-fifth of the total tribal population in India and Mr Sahoo has close ties to the tribal groups in the region. The people here are naturally artistic and creative. His mission is to preserve, protect, promote, propagate and popularize the tribal arts and crafts of Orissa.
Effective Partnerships and Increasing Incomes
Anwesha have been associated with Sasha since 1988 and consider Sasha a partner in their growth. Sasha has provided support in all aspects of the organization since its inception. In 1980, there were 24 artisans and today there are 1274 artisans involved. Employment opportunities have been plentiful and on average, there has been a steady increase in income over the last decade. Anwesha has held a number of design diversification and product development workshops, sponsored by the Government of India, and facilitated by Sasha to keep abreast of the market trends and demand. Sasha has also facilitated workshops on quality enhancement of the products, benefiting the artisans and the organization.
In addition, Sasha have also undertaken workshops on business skills, market promotion and supply chain management. These have been provided by Sasha through its development organization, Sarba Shanti Ayog (SSA).
As well as providing an income for producers, Anwesha also provides a number of additional benefits for artisans, including implementing the Indira Awas Yojna through the Orissa Government for any homeless artisans. Other initiatives include an artisan ID card and medical insurance. Through a government project facilitated by Anwesha, solar lamps have also been provided to artisan families.
Explore products by Anwesha Tribal Arts and Crafts