Beginnings as an MCC project
The Self Help Handicrafts Society is women's group, associated with Sasha from its inception in late 70s. It started as a unit of displaced and marginalized women from urban fringes to uphold their skills in embroidery, garment making and other textile products, promoted by the Mennonite Central Committee and Bread for the World. During that time the unit was located at the MCC office in Central Kolkata. The Mennonite Central Committee provides disaster relief around the world alongside their long-term international development programs. MCC's development work around the world is in areas such as education, health, agriculture, peace and justice issues, and relief work and job creation. Ten Thousand Villages, MCC's Fair Trade store, purchases crafts from developing world artisans and craft-persons and makes them available for sale in North America. Wherever possible, MCC works with the regions local partners that include women's groups, farmer's cooperatives and government agencies.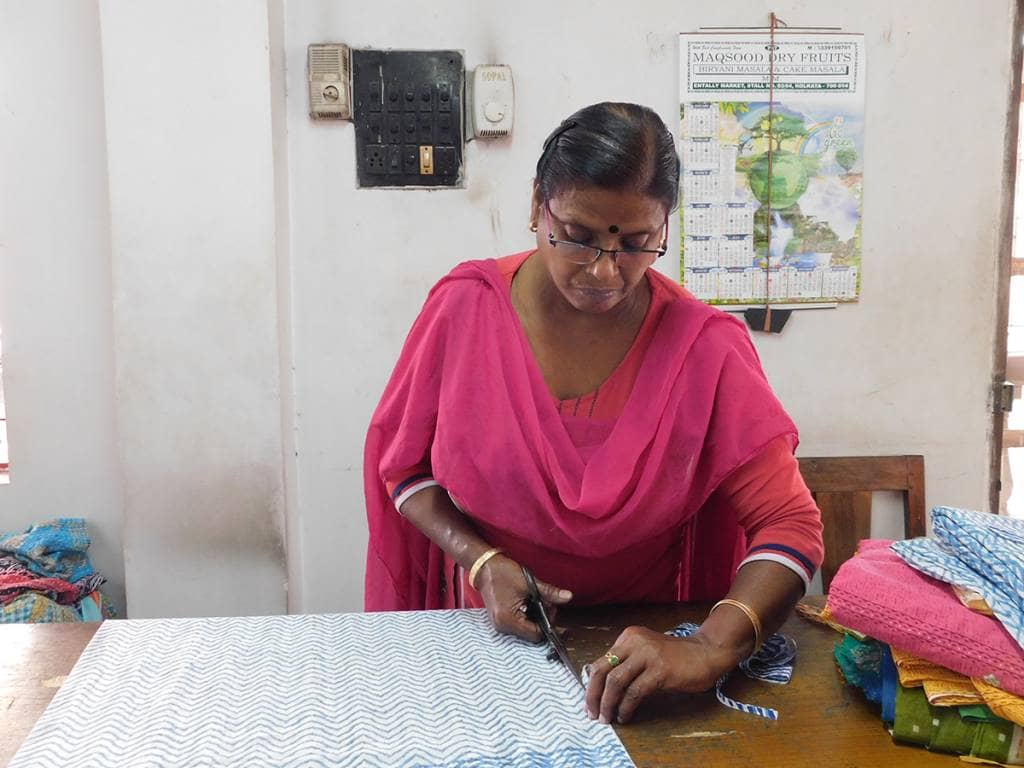 A tailoring and embroidery unit with social support
Self Help Handicraft Society is a tailoring and embroidery unit today where 14 women are directly involved and some more women work from home on part-time job work basis. Sasha has been instrumental in the formation and growth of this women's society. When Sasha moved into its new premises in the late 80's, Self Help too shifted along with Sasha to it's present location that consists of two floors. They have their own building space in central Kolkata for production, storage, retailing etc. Sasha has provided design inputs and access to market and financial support to sustain and strengthen the organisation. Self Help encouraged savings and contingency funds for its members and their families too.
Developing new business skills
During the initial years of Sasha, when a majority of the women embroidery groups associated with Sasha were in the formative stage, they didn't need further training in embroidery, but they needed to learn accounting, management, raw material buying etc. Self-Help Handicrafts Society was involved in the development of all these groups and shared their experiences and knowledge. The Sasha Textile Artisan's Association, textile producers collective began its operation from a table space in Self Help Handicrafts Society. Self Help has been a longstanding partner of Sasha and the bond has grown stronger as each year passes.
Explore products by Self Help Handicrafts Society