Home-based mat weaving for export
Belloon Hasta Shilpa specializes in mat, bamboo and recycled saree (khesh) products. It is located in the remote village of West Midnapore, West Bengal with 23 artisans, many of whom work from home. While the madur (mat) weaving is done by women on home-based looms, the unit also provides some looms for those who do not own them. The dyeing and finishing work is done at the unit where they have a spacious work shed for the artisans.
The women have become highly skilled and experienced. They not only work for export orders through Sasha, but also participate in local exhibitions with Sasha. This exposure helps give the unit an edge with their designs, quality and productivity.
Madur grass products from Midnapore are very famous in India and abroad. Madur grass is grown in the basin of the Kaleghai River and its tributaries, a natural habitat for the Cyprus Tagetum Roxb, the botanical name for the grass.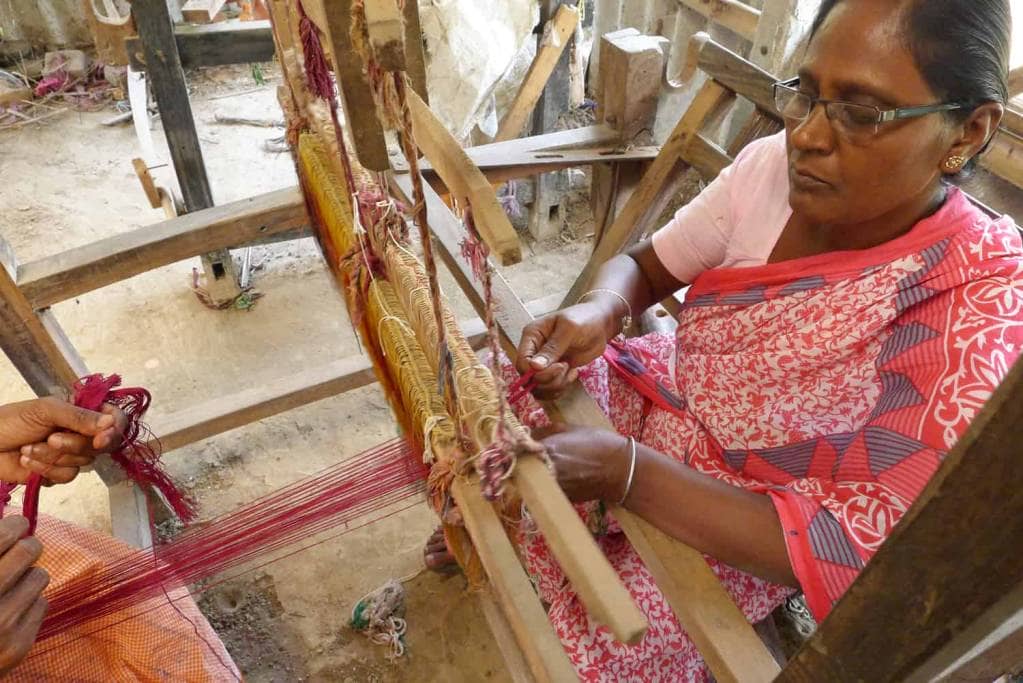 New skills that provide a regular income
Belloon Hasta Shilpa is a society that was established in 1999. It takes care of the production of the handcrafted products and benefits of the artisans. The secretary and founder, Arun Khaua is also an entrepreneur who started his journey as a master weaver and trainer for government programmes. Subsequently, he began working with a few artisans and gradually the unit has expanded. The unit directly benefits grassroots artisans, most of whom are women. Only two or three male members are there for purchasing raw materials and interfacing with Sasha.
Most of the women have learned this traditional craft from Belloon Hasta Shilpa and now earn a regular, reliable income. These women are economically empowered and have gained confidence to voice their views in their families and to raise their voices against domestic violence or any other discrimination.
A long partnership with Sasha
Arun Khatua's association with Sasha is from 2007. Recently, with support from SSA's Microenterprise finance, the unit has shifted to a new location to improve the working conditions and operational efficiency and while also providing better connectivity with the city. SSA also assisted the society to upgrade the dyeing unit and fulfil compliance requirements. It is a longstanding partnership between Belloon Hasta Shilpa and Sasha, where Sasha assists in product development, skill upgradation and marketing services for domestic and export markets.
Explore products by Belloon Hasta Shilpa